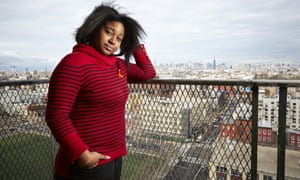 Erica Garner, the Black Lives Matter activist who was the daughter of Eric Garner, a man who died in a police chokehold in New York in 2014, has died after a week in hospital following a heart attack. She was 27.


Conflict can destroy movements. We need to fight the system, not each other | Erica Garner and Kemi Alabi

Among tributes, Senator Bernie Sanders said that although Garner "didn't ask to be an activist, she responded to the personal tragedy of seeing her father die … by becoming a leading proponent for criminal justice reform and for an end to police brutality".
Announcing Garner's death, the Rev Al Sharpton said she was "a warrior to the end". "Her heart was broken when she didn't get justice," Sharpton said. "… The [heart] attack just dealt with the pieces that were left."
Garner's mother, Esaw Snipes, told the New York Times earlier this week her daughter, who gave birth four months ago, learned during the pregnancy that she had heart problems. Snipes said Garner had a heart attack after an asthma episode and was placed in a medically induced coma.
On Saturday a message on Garner's official Twitter account, which was run by family and friends after she became ill, said: "She was human: mother, daughter, sister, aunt. Her heart was bigger than the world. It really really was. She cared when most people wouldn't have. She was good. She only pursued right, no matter what. No one gave her justice."
Eric Garner, who was 43, died in Staten Island in July 2014 after a white police officer subdued him with an illegal chokehold, during an arrest over the alleged sale of untaxed loose cigarettes. His last words, "I can't breathe", became a slogan for activists protesting police brutality against African Americans across the US.
The officer, Daniel Pantaleo, was not charged with any crime and remains employed by the New York police department. The decision not to press charges led to major protests in New York City.
Erica Garner became an activist and writer, including for the Guardian. In 2016, she campaigned on behalf of Sanders in his bid for the Democratic presidential nomination.
In his statement, Sanders said: "Erica Garner was an exceptional young woman. She was a loving daughter, sister, mother, friend."
He added: "I had the honor of getting to know Erica and I was inspired by the commitment she made working towards a more just world for her children and future generations. She was a fighter for justice and will not be forgotten."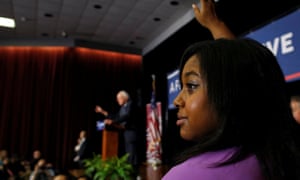 Erica Garner at a Bernie Sanders campaign event in 2016. After her death, Sanders called Garner 'a fighter for justice' Photograph: Jim Young/Reuters
A message on Garner's Twitter account referred to the Democratic New York mayor Bill de Blasio and said: "... explain how she died with no justice."
In a subsequent statement, de Blasio said: "Erica Garner's death is a horrible tragedy. I am praying for her family, who have already been through so much. This city will miss her unshakable sense of justice and passion for humanity."
In 2015, the Garner family settled a civil wrongful death suit with the city of New York for $5.9m.
Other Twitter messages from Garner's account said "out of respect to Erica please do not request comment if the journalist is not Black" and "please share all video and photos of Erica you have".
Donna Lieberman, executive director of the New York Civil Liberties Union, said Garner "showed incredible courage and remarkable resolve" and "bravely transformed her unspeakable personal pain in[to] political power as she became a leader in the fight for police reform".
Lieberman also mentioned Eric Garner's mother, who has also campaigned on the issue of police brutality, when she said: "Our thoughts are with Gwenn Carr and the rest of Erica's family, who once again must endure the loss of a loved one who died much too young."
Tina Luongo, attorney-in-charge of the criminal defense practice at the Legal Aid Society, said Garner "put a greater spotlight on … the need for sweeping criminal justice reforms".