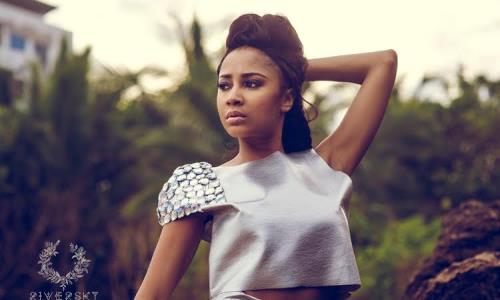 Sister Deborah, born Deborah Vanessa, feels empowered as she announced her return into the 'nudity market' in a unique style.
The African mermaid, as she affectionately calls herself, started sharing her latest nude photos on Instagram on Sunday, flaunting her petite figure but well-covered.
She covered her private parts with beads from Suntrade, one of her hot spots for Ghanaian beads.
She described the photos as "artistic nude", coming from a shoot she named, "FOKN Girl: Daughter of the Sun."
According to her, she was "inspired by the word sun from Suntrade Beads Company and @foknbois song called 'Sons of Sun',which talks about being proud of your natural complexion, being authentic, original and a child of the sun, full of vim. They sing "children of the sun come come, if you bleach chale run run."
"So I had been thinking about doing an artistic nude shoot recently and when I walked into the only beads heaven in Ghana last week, I figured the perfect cover up," she also said in another post.
The photos are to send a bold message that she is proud of her complexion and won't tamper with it for any reason, judging from her inspiration for the shoot.
Interestingly, she has been receiving applause on social media from other celebrated women in the entertainment industry who think Sister Deborah is tastefully covered, describing the photos as beautiful and 'sexy'.
On Monday, she posted another photo from the shoot and tagged Vogue Magazine,saying, "I belong in @voguemagazine, not Ashale Botwe" to indicate her seriousness about the shoot.
It, however, appears that the insecurity and fear of being judged for getting nude is no longer a bother to Sister Deborah at this moment, especially when she is showing skin to empower others to stop bleaching.